Attending a Class
Whether you are new to yoga, or have been practicing for a while I will ensure you are practicing safely and are getting maximum benefit from the class. I will modify and adapt movements and breathing techniques to suit all abilities so everyone makes progress.
You will be asked to complete a detailed health questionnaire to assist me in teaching you safely.
Wear loose clothing and preferably bare feet.

Use a non slip yoga mat for safety.

Report any new injuries or ailments to the teacher.

Practice 2-4 hours after eating.

Remember yoga is non- competitive and non- judgemental.

Work with your abilities on the day – we feel different each day.

Respect others around you.

During relaxation your body temperature drops, so it is good to bring a blanket to stay warm and cosy.

If you have any questions do not hesitate to ask.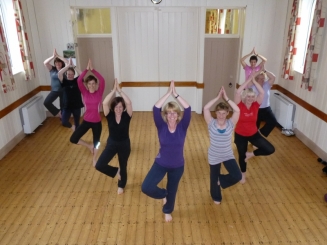 Tree posture with a smile